Customized French Drain Systems in The Tri-State Area
Protect Your Property from Water Damage and Flooding
Introducing The Rain King's French drain installation services, the ultimate solution to protect your home and lawn from water damage. Our expertly designed and installed French drains will channel excess water away from your property, preventing costly damages and ensuring your home remains safe and dry. With years of experience, we have the knowledge and skills to provide you with the best French drain system tailored to your needs.
As a homeowner, you'll reap numerous benefits from our French drain services. Not only will you be safeguarding your home's foundation from potential water damage, but you'll also be preserving the beauty of your lawn and landscaping. Our French drains will prevent soil erosion and standing water, allowing your plants to thrive and maintaining the overall aesthetic of your outdoor space. Trust The Rain King to deliver exceptional results that will enhance the value and appeal of your property.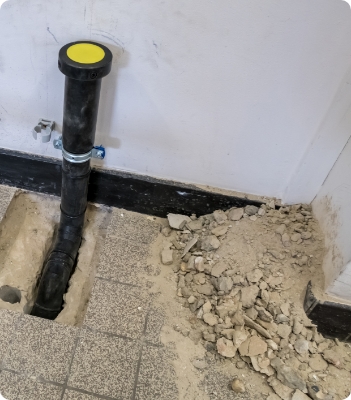 Protect Your Home and Health with Waterproofing Solutions!
---
Prevent mold growth and structural damage by investing in our expert basement waterproofing services. Contact us now to learn more and schedule a consultation.
1-866-965-KING
Our French Drain Installation Process
---
The Rain King's team of professionals begins every French drain installation with a thorough assessment of your property. We evaluate your home's needs, considering soil type, landscape, and existing drainage systems. Our customized approach ensures that your French drain is tailored to provide maximum protection for your home.
Once we've designed the perfect French drain system for your property, our experienced technicians will get to work. We use industry-leading techniques and materials to ensure a long-lasting, effective solution. Throughout the installation process, we prioritize minimal disruption to your property and a clean, efficient work site. With The Rain King, you can trust that your French drain will be installed with the utmost care and expertise.