Comprehensive Crawl Space Repair & Encapsulation in Bronx, NY
Mastering the Art of Crawl Space Repair
The Rain King is your one-stop solution for crawl space repair and encapsulation. We understand the importance of a healthy, well-maintained crawl space in maintaining your home's structural integrity and comfort. Our comprehensive services are designed to address all your crawl space needs, from repairing damage to preventing future issues.
A damaged or poorly sealed crawl space can lead to many problems, including moisture buildup, mold growth, pest infestations, and decreased energy efficiency. By investing in crawl space repair and encapsulation, you can protect your home from these issues, improve indoor air quality, and increase the overall value of your property.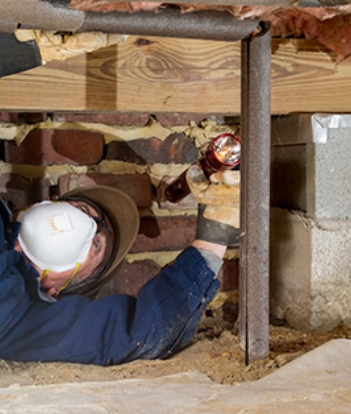 Secure Your Home's Future with Crawl Space Repair and Encapsulation
---
Contact The Rain King today for a free consultation and discover how our crawl space repair and encapsulation services can protect and improve your most valuable investment.
1-866-965-KING
Our Crawl Space Repair and Encapsulation Process
---
At The Rain King, our skilled professionals begin by thoroughly inspecting your crawl space to identify any existing damage or potential concerns. This allows us to develop a customized repair and encapsulation plan tailored to your home's needs.
Our repair process involves addressing structural damage, removing debris, and treating mold and mildew. Once the space is clean and safe, we'll proceed with encapsulation, using high-quality materials to create a moisture-resistant barrier on the floor and walls, sealing vents and entry points, and insulating the space to improve energy efficiency. Throughout the process, we'll keep you informed and ensure your satisfaction with our work.